The Hands-on Skills Training (HOST) program is an on-water education program that was developed by Discover Boating in the US and adapted in Canada. 
HOST is designed to help customers feel more comfortable at the helm, through an enjoyable and easy to understand on-water experience. It has been proven effective in engaging customers, enhancing their perception of boating and in selling boats. 
The objective of the program is to provide recreational boaters with an on-water training experience that will help to improve and enhance their skills as boat operators in order to expand upon the safe operation of their boat. This is achieved through a basic boat handling course which teaches docking skills and close quarters manoeuvring with a qualified instructor. Participants will learn the fundamentals of boat control in confined spaces, how to turn around in tight spaces, back down a narrow channel in a straight line and other important docking and manoeuvring skills.
For an up to date list of qualified instructors that will deliver a turnkey experience for your own events, please contact Tracey Hart
[email protected]
If you prefer to choose to deliver the HOST program with your own qualified on-water instructor, you are welcome to download the event materials using the link below.  These include a marketing guidelines and templates and an outline of the fundamental program elements.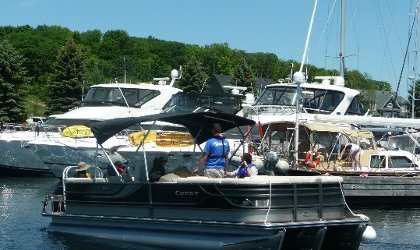 Please use this link to download the HOST program guidelines:

•Event format & logistics including basic event requirements
•Instructor guidelines for the HOST curriculum
•Examples of event schedule, event promotional copy, event registration and waivers
•Examples of several different educational handouts which can be accessed and used
Please use this link to download the basic instructor guidelines.
Watch this webinar on how to use email to market to Canadians
•Email marketing guidelines
For questions, contact Tracey Hart: [email protected]