boating lifestyle
Trends in Boating: 'Best Of' Lists
Where to Boat
Top 10 Canadian Destinations to boat this summer
Okanagan Lake, British Columbia
Barclay Sound and the Port Alberni Inlet, British Columbia
Haida Gwaii, British Columbia
Southern Lakes, Yukon Territory
Sylvan Lake Provincial Park, Alberta
Northern Saskatchewan
Whiteshell Provincial Park and Cottage Country, Manitoba
Chaudière-Appalaches, Quebec
Northumberland Strait, Maritimes
Lake of the Woods, Ontario
Celebs on a boat
Top 10 music videos that feature a boat
Celine Dion, Heart with go on
The Tragically Hip, Lake Fever
Shania Twain, Forever and Always
Arcade Fire, Afterlife
Matt Dusk et Florence K, Somethin' Stupid
Jake Owen, Barefoot Blue Jean Night
Aliyah, Rock the Boat
T-Pain: I'm on a boat
Jennifer Lopez, Jenny from the Block
Macklemore and Ryan Lewis, "Can't Hold Us"
Better on a boat
Top activities to do on a boat instead
Watch a movie: There are a lot of amazing outdoor movie festivals in Canada where you can bring your boat and watch from the water
Watch the fireworks: Nothing beats the sight of the fireworks in the sky and then reflecting on the water
Host friends: Why not have a dinner party on a boat instead? There are great options for some meals on your boat
Sightsee: What better way to see the sights than via water?
Meditate: Meditating on the water gives you double the stress-free relief
Entertaining: Better to enjoy a cruise on the water instead of the standard party on land!
Attend a concert: Why not take your boat to an outdoor concert and listen to the tunes and avoid the crowd?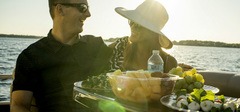 Nautical Nibbles
Some perfect snacks to have on a boat
Trail mix
Individually wrapped veggies and dip packages
Sandwiches
Cheese & crackers
Cookies
Bottles of water (individual for easy pouring)
Fruit that doesn't need ot be cut: ex: Apples and Bananas
Boxed drinks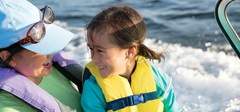 Marine Moms
Must haves for your boat-loving mom this Mother's Day
Waterproof sunscreen
Boating or water sport lessons
New lifejacket
Boat shoes
Tickets to a boat show
Nautical theme clothing
Anchor jewellery
Sunglasses
Captain's hat
Binoculars
Fun and Fireworks
Where to watch fireworks on the water (either with your boat or a cruise)
Convoyeurs Pier, Quebec
Burrard Inlet, British Columbia
Niagara Falls, Ontario (aboard the Hornblower only)
Granville Island, Vancouver, British Columbia
Kingston, Ontario
Ganonoque, Ontario
St. Lawrence River, Quebec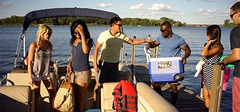 Marine Manners
Tips for being a good guest
Bring a no-fuss gift that's boat friendly
Check with your boat host before inviting additional guests. It's important for the host to know numbers to account for life jackets and capacity
Wear boat-friendly shoes with non-marking soles or go barefoot. Heels are not safe and can famage some boat floors
Pack light: Space ad storage can be limited so bring only what you need
Dress for all weather and bring light layers to keep perfectly happy