Go Boating Today
Discover the Joys of Boating
Easy ways to get on the water
No boat? No problem. Round up your crew, take the helm and head out on a voyage of boating discovery. Boat clubs, rentals, charters and peer-to-peer options let you enjoy a wide variety of boating adventures—from fishing to cruising to sailing or water sports— even if you don't own a boat. They're also a great way to try different boat types if you're thinking about buying a boat or trading up to a bigger model boat.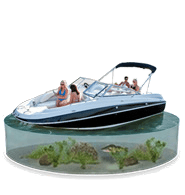 Stoked about water sports?
Hooked on fishing?
Dreaming of cruising on open water?
Owning a boat puts you at the helm.
Explore Boats