New or Pre-Owned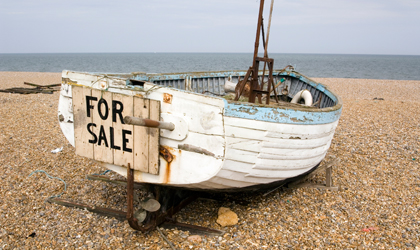 So it's time to sell your boat or trade it in. Few people own just one boat in a lifetime and we can't keep them all. For most of us, the more we go boating, the more we want to go and the more boats we have, the more boat we want. It's all part of the fun. Here are some approaches and tips to trading-in or selling your boat so that you can get your next one.
Dealer Me In
Trading in a boat at your dealer can be the simplest solution. After all, he or she probably has customers actively looking. If there's a thing or two that needs sprucing up, the dealer's got the staff and stuff to take care of it. Visit our Find a Dealer page to find dealers in your area.
Go For The Pros
A Professional Yacht Broker handles the important, time-consuming and technical legwork of identifying buyers, drafting and placing ads, arranging sea trials, negotiating the best sales price and handling the transfer of funds, all for a percentage of the sale. Boat and yacht transactions are their business; they know what to look for and how to ensure that you get what you deserve. Qualified Yacht Sales Professionals belong to one or more industry trade associations, complying their Code of Ethics and utilizing standardized legal contracts. And, they have access to customers you don't. You can locate them at the Certified Professional Yacht Broker website.
Education and training
The Certified Professional Yacht Broker (CPYB) designation is earned by eligible Yacht Sales Professionals, who, after serving a minimum of three years as a full-time professional, have successfully completed a three-hour written examination and maintain their designation every three years through continuing education and service. The CPYB program is sponsored by every professional yacht broker association in North America.
Do It Yourself
You know the boat, can field questions and like talking to people, especially about boats. You don't mind negotiation and are willing to arrange sea trials. You like putting all the money in your pocket.
Tell the world. Advertising has advanced beyond classified ads, although they can still draw local boat shoppers. You can also advertise through generalized services like Craigslist and specialized venues like boatdealers.ca, Boat Trader, Boats.com and iBoats.com. Write your ad carefully, double-checking spelling and stats. Imagine and answer in advance a reader's questions. Make sure photos sparkle. Set a reasonable price, with a bit of haggling room.
Consider finalizing the transaction at your bank or credit union, where funds can be verified. Then, before handing over the title, move to a secretary of state's office or local license bureau, where title and registration paperwork can be processed. Handing over an open title doesn't get the boat off your registration docket and maybe your liability wheelhouse until the buyer registers it. Be careful of all-internet sales — fraud is an ever-present danger.
Sale-Making Tips
Do (and gather) your homework. Have the title or documentation ready to avoid a sale-time scramble. Find the owner's manuals and organize maintenance records. The shopper will appreciate how you've cared for what may be his or her next boat! Selling a larger or more complicated boat? Consider hiring a marine surveyor to provide an assessment. Your buyer likely will hire his own surveyor, but a clean report could make him more willing to dig deeper!