Bas-Saint-Laurent, Quebec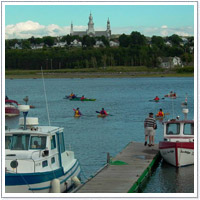 Situated on the southern shores of the St. Lawrence River, the Bas-Saint-Laurent is an exceptional region.
You will be won over first by the scenery with its rolling waters, lighthouses and numerous islands. Here, the kayak is a perfect way to explore the area and the 'Route Bleue' offers you an ideal water trail to follow. There are also different discovery cruises where you can experience the beauty and grace of the St. Lawrence islands, and you will find yourself charmed by the wildlife that inhabits the area. As you escape further south, the lighthouses and islands give way to the scenic rolling countryside hills that are reminscent of Lake Témiscouata and Lake Pohénégamook.
Let yourself be seduced by the Bas-Saint-Laurent region and you will fall in love.
The Navigators Route follows Highway 132 for 190 km from La Pocatiere to Sainte-Luce. This journey showcases the history of the river and the lifestyle that it inspired for three centuries.
The 'Route Bleue' of the southern estuary offers a new way to discover the Bas-Saint-Laurent. It has a network of 85 launch ramps, as well as first-aid shelters, rest points, tourist accommodation and restaurants, and commercial or more natural campgrounds. This ecologically valuable water trail is reserved for smaller boats that are gently pulled through the water (such as kayaks). The 'Route Bleue' works to ensure preservation and protection of the natural environment, providing accessibility for all while protecting the sensitive ecosystem on behalf of its inhabitants. For more information, call 418 867 8882.
The Lighthouse Route - Québec has 43 traditional lighthouses, of those, 20 have now been refurbished to their original glory and enjoy a second life thanks to the passion of those who have transformed these « sentinels of the sea » into museums, hotels or inns. For more information, call 418 724 6214.
Islands - Single-handedly, the word island evokes images of both a sanctuary and an exotic idyll. At Bas-Saint-Laurent, a string of islands mark their path along the St. Lawrence River. Whether you want to escape for a few hours or a few days, there are five evocatively named islands (l'île aux Lièvres, l'île du Pot à l'Eau-de-Vie, l'île Verte, l'île aux Basques and l'île Saint-Barnabé) that are accessible to the general public where you can 'escape' from it all. Many excursions are available dependent on tides and times