Mauricie, Quebec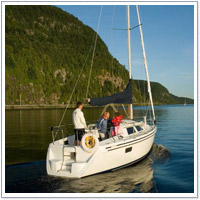 Water covers 11% of the Mauricie region (4365 square km), and the Gouin reservoir with its 1303 square km expanse is the most important water plan in the area. Mauricie has an infinite number of lakes that lie strung together or each on their own that offer places of relaxation, where one can commune with nature in a unique setting.
In the past, you might see felled trees floating in the river past sawmills, but the St. Maurice River is now an idyllic setting for enjoying a variety of water activities. As well, the St. Anne, Matawin, Batiscan, Maskinongé and du Loup Rivers offer a multitude of activities for every taste. In fact, Lake St. Pierre has been declared a protected world biosphere reserve by UNESCO, which should give you an idea of the priceless nature of these areas.
From La Tuque, the St. Maurice River is navigable all the way to Grades-Piles. Experienced trekkers will find that Mauricie national park and lakes like "Lac à la Pêche", Wapizagonke (which is more than 15km long), Caribou, Édouard and du Fou offer everything they need for a great outdoor experience. Mauricie National Park with its many lakes is also perfect for those who enjoy portaging. The Mékinac River, for its part offers canoeing and kayaking excursions through 3km of tranquil settings before it throws you back into the St. Maurice River.