Chaudière-Appalaches, Quebec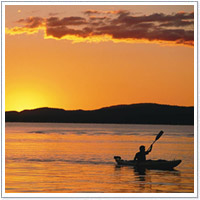 The Chaudière-Appalaches region is one of the recognized historic regions of Québec. Its heritage dates back 350 years and the river has been instrumental to the growth and development of this part of the country. It's no surprise that Chaudière-Appalaches boasts five of the most beautiful old villages of Québec, all bordering along the St. Lawrence River.
Experience the beautiful and historic villages of Québec in Chaudière-Appalaches.
St. Lawrence River
The Chaudière-Appalaches region encompasses the St. Lawrence river for over 200 km. A veritable playground for outdoor enthusiasts the St. Lawrence River offers a wide range of activities and attractions beyond compare. Many marinas are themselves a source of interest.
For an unforgettable trip, travel with the Lachance family as they offer cruises giving you unique access to the priceless heritage sites that are Grosse-Île and Isle-aux-Grues. Grosse-Île is a federally protected cultural heritage site and accessible by water with Croisieres Lachance. L'Ile aux Grues is a colourful island (with only 200 inhabitants) which you can visit and experience using the regular ferry service. Be sure to check the website for more information.
www.croisiereslachance.ca.
Many of these areas along the St. Lawrence River stand out as attractions each with their own unique and appealing feaures. They include :
- The Joly Region of Lotbinière (Lotbinière)
- The 'Parcours des Anses' (Lévis)
- Canadian Cultural Heritage Site Grosse-Île and the Ireland Memorial (Côte-du-Sud)
- Isle-aux-Grues (Côte-du-Sud)
- The Accordion Museum (Côte-du-Sud)
- The Artists and Artisans of Saint-Jean-Port-Joli (Côte-du-Sud)
- Camping in the Aulnaies region (Côte-du-Sud)
- And more …
Lake St. François
The well known Lake St. François straddles the Chaudière-Appalaches and the Eastern Townships. With a vast expanse of water, it's ideal for amateur water sports enthusiasts to enjoy everything from jetskis to sailboats on its sparkling waters. Bordering the lake you'll find Frontenac National Park offering exceptional camping and Nature Discovery Activities and Special Events. While you're in the area, be sure to visit the Thetford Mines Mineralogical Museum, where you'll find amazing interactive displays and enjoy a truly unique experience.
St. Lawrence Water Trail
The 'Route Bleue' of the southern estuary, the first of its kind in Québec passes through the Chaudière-Appalaches region. Traversing 400 km from Berthier-sur-Mer to Les Méchins, kayakers will find services available to them for its entire length. Please note that this idyllic water trail subscribes to 'Leave No Trace' conservation policies.
Québec's 'Route Bleue' and Chaudière-Appalaches are continually being developed. Extending 300 km from Leclercville (Lotbinière) to Saint-Vallier (Bellechasse) and from Deschambault-Grondines (Portneuf) to Sault-aux-Cochons (MRC Côte-de-Beaupré), there are now 61 authorized rest stops covering 24 municipalities along its shorelines.