Boating Lifestyle
Boating Lifestyle
There is so much to love, and learn, about boating. That's why we created this library of articles, videos and blog posts to help you throughout your adventures.
Buying a Personal Watercraft (PWC)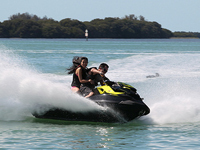 Are you considering buying a personal watercraft (PWC) as your first boat or adding one to your existing fleet? Whether you\'re a newcomer to the incredible boating lifestyle or you\'re a seasoned veteran, there are some key differences between PWCs and other types of boats. But with these tips, you\'ll be off of the dock and having fun on the water in no time.
Narrow Down Your Options
There are lots of fantastic new models on the market (and hundreds of older models still ready for use), so let\'s take a few minutes to narrow down your options by figuring out who will be riding, how you\'ll be riding, and where you\'ll be riding.
There are several basic categories of PWC. Stand-ups provide a single rider with freedom and maneuverability, while two and three seaters allow for more comfortable cruising.
Find Your Perfect Fit:
Styling - Of course, the first thing many of us will be drawn to is the way a PWC looks, whether that\'s at a boat show, a dealer\'s showroom, or out on the water. Look for styling that fits YOUR particular style, whether that\'s flashy or slightly more conservative.
Seating - You might not think so, but there\'s a pretty big difference in the way each one of the PWC manufacturers configure their seating. The first hands-on test should be to climb up and see if the boat fits you properly. If all goes as planned, you\'ll be spending a lot of time in this spot, so if anything feels awkward to you now, that feeling will be magnified as time goes on.
Ergonomics - After the seat, your handlebar will be the part of the PWC you\'ll have the most contact with. Most models today come with adjustable positions (for safety as well as comfort), so see if you can tweak everything so it feels effortless to sit in that position with your hand on the throttle. Once you get that squared away, make sure you can easily see your gauges and switches. Also, make sure you take the time to stand up in the footwells...it should feel natural and comfortable with your hands on the handlebar.
Versatility - Depending on how you will primarily use your PWC, there are some things to consider. If you\'ll be using the boat to tow tubers and wakeboarders, make sure you have plenty of horsepower, a good aft-facing spotter seat with grab handles, and an oversized mirror for the driver. If you\'re looking for transportation out to your cottage or to get to your favorite camping island, your top selling points will be fuel capacity and storage. Typical riders may swoon at convenient amenities like cupholders, easy-to-climb boarding ladders, and soft non-skid decking.
Innovations - More and more these days, some of the key differences among manufacturers are the innovative solutions they are coming up with to solve some of the issues common to all PWCs. The biggest one of course (true for all boats, actually) is braking. Various braking solutions are now being developed, and that will be a hotbed of creative thinking over the next few years. Off-throttle steering is another big feature that continues to be refined, since up until recently, you lost all steering control when you released throttle. If you\'ll have riders of all different skill levels driving your PWC, perhaps consider a speed-limiting system that will keep inexperienced drivers from going too fast too soon. An easy-to-operate reverse control is also something you\'ll find yourself using more than you think...especially when docking.
Have a look at some of our other boating articles as well! Click here