Boating Lifestyle
Boating Lifestyle
There is so much to love, and learn, about boating. That's why we created this library of articles, videos and blog posts to help you throughout your adventures.
Boating in Beautiful BC
Explore the wild, but civilized, coast of British Columbia. From a World's Most Liveable City in the south to the utter isolation of deep, rainforested fjords, British Columbia's coast offers every type of boating adventure, with comforts to match. You will never finish exploring our 25,000 kilometres of coastline and more than 40,000 islands. The protected Salish Sea has a Mediterranean climate, relatively modest navigational challenges, a circle of communites, social boating, with many private places if you are looking for them. The Outer Reaches, off western Vancouver Island, and the misty isles of Haida Gwaii give a taste of bluewater sailing along variegated, sparsely inhabited shores. The great island groups and sinuous inlets of the Fjords, Islands and Passages region are part of the world's largest intact temperate rainforest, home to the enigmatic Spirit Bear.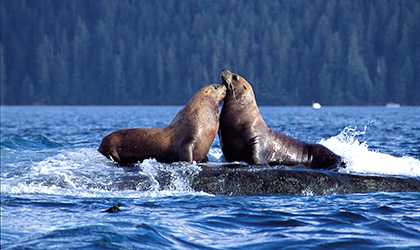 Our friends at BoatBlurb have some additional tips on how to explore British Columbia's Howe Sound by Boat and the Okanagan Lake.
If it's remote boating you want, then head for the high spirited Outer Reaches or the endless archipelagos north of the Salish Sea. Here you can standon your deck and survey a seascape without another boat in sight. Or stern tie in solitude in one of countless coves in BC's 255 marine parks and conservancies. Some days it's just you and the wildlife roaming on shore – grizzly and black bears, beavers, moose, elk and deer – and the shadow of eagles passing overhead. Wherever you are in BC waters you will see seals, dolphins, sea lions, sea otters and four species of whales. There are two populations of Orcas, one is resident, the other migrates annually. Gray whales and humpback whales are migratory and the best time to see them is May-June and September-October.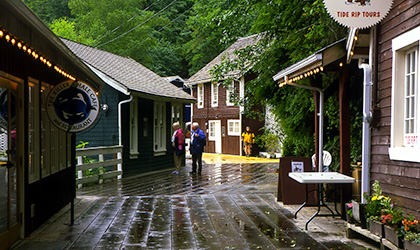 A unique feature of BC's remote waters are the resorts sprinkled across archipelagos and mainland. You are never more than a couple of days from a comfort station. Each is different, taking on the personality of its builders. Many of these havens are family operations with long histories. Some offer rustic comforts, others the full amenities of a resort spa. None skimp on the quality of food and you have earned a fine meal after a week at sea. Every resort caters to fishers, and hosts are happy to make sure your catch is memorable.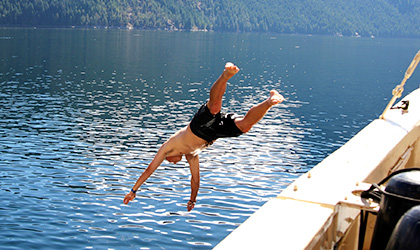 But, you don't have to go far to find soul stirring surroundings. A day trip from Vancouver takes you to seclusion in Indian Arm, or to Smuggler Cove and Pender Harbour on the Sunshine Coast. Princess Louisa Inlet, with 5000' walls and aptly named Chatterbox Falls at the top, is not much further. Desolation Sound, for many the most perfect boating destination on BC's Coast, is reachable from Vancouver in a day; even if 99.9% of Vancouverites couldn't tell you where it is. Sitting in tidal cross-hairs, water in the Sound approaches 80F in late summer. Imagine warm-water swimming in a high-latitude maritime rainforest within view of glaciers. Oh, and maybe a sea otter to greet you.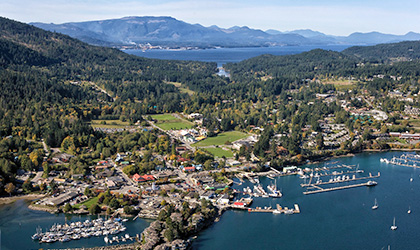 Let's return to civilization. Vancouver is readily explored by boat or on foot from downtown marinas. Victoria, the Provincial capital, welcomes boaters to a mélange of Victorian and modern charm. The Gulf Islands are the most popular destination on BC's coast. They are accessible, largely unspoiled, with so many anchorages you can choose to be alone or rafted in merry company. It is worth exploring the islands. Each has a distinct culture and few visit without wishing they could live in such a place. Between cosmopolitan Victoria and the north Vancouver Island port communities of Port Hardy and Port McNeill is a coastline crenulated by bays and inlets hosting settlements ranging from bare villages to the robust waterfronts of Nanaimo, Comox and Campbell River. There are plenty of marinas along the way and plenty of the comforts and rewards that go with adventure travel.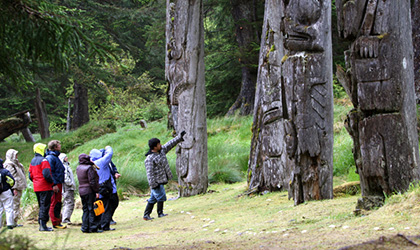 British Columbia's coast has been the home of First Nations' peoples for at least 10,000 years. Their cultures are still very much alive. Travellers may experience these cultures in communities across the coastal region, by visiting Aboriginal Cultural attractions or by taking a day-long or extended tour with a First Nations' guide. British Columbia has a website designed for boaters. Visit
ahoybc.com
for information on all coastal regions and a handy, searchable map of marinas and communities.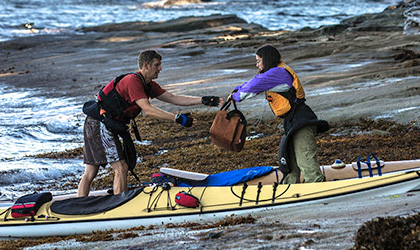 If you can't bring your boat, or don't own one, there are many ways to get on the water. See the "Road Trips" section of
ahoybc.com
for information on boat charters, rentals, ocean tours and kayak rentals.It is up to you how wild or civilized you want to be on British Columbia's wild, but civilized coast.
Click here to visit website