Northumberland Strait
Northumberland Strait
Cruising the Northumberland Strait
By Steve Abbey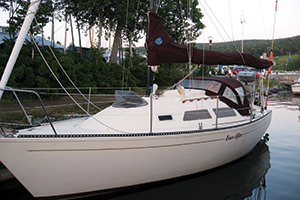 Delineated roughly by a line from Point Escuminac, N.B. to Cape North, P.E.I. on the western end and from Inverness, Nova Scotia to East Point PEI on the east, the Northumberland Strait has a length of about 175 nautical miles and encompasses all of the Maritimes. (CHS Chart #4023)
Pleasure boating on the Strait features warm weather, a virtual absence of fog, prevailing westerly/southwesterly light to moderate breezes, unsurpassed sunsets and the warmest salt water in Canada making for excellent swimming. The bottom nearly everywhere consists of mud or coarsely packed sand and provides good holding at anchor. The Gulf of St. Lawrence sailing directions (Southwest portion, ATL 108E) is an excellent cruiser's reference for currents, tides and harbour approaches. There are few hazards and those that do exist are well charted. A short chop will likely build after a 24-hour or more period of consistent winds, but wave heights in the Strait are generally less than a metre and generally pleasant passage making is the rule. Being relatively shallow, tides here are quite pronounced in the narrower areas with more than a two-metre range the norm. Currents are more powerful on the Prince Edward Island shore running over four knots in places, a nice bonus if you happen to be in the right place at the right time.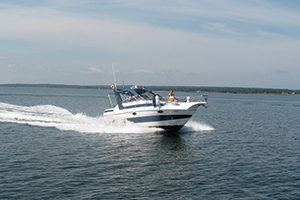 As far as weather goes, May and June have been fairly chilly for sailing for the last couple of years, while July, August and September cruising offers the most pleasant boating weather-wise to be had on the Strait. The last two weeks of July and the first week of August see the most vessels traveling, many making their way to the Bras d'Or Lake of Cape Breton Island. Hurricanes are rare with the relatively cold waters of the Atlantic Ocean providing a buffer for the entire region but the odd post-tropical storm can occur here. The warm water of the Strait doesn't seem to have an appreciable effect in intensifying these storms. There are several marinas and harbours considered excellent for cruisers seeking refuge and each have their strengths and weaknesses depending on wind direction.
Most marinas open for the season usually from the beginning of May and close in October. Harbours and marinas are plentiful and generally an easy day-sail apart which makes for a relaxing cruising experience. Most marinas monitor VHF 16 or 68 for communication. Dual-watch monitoring of 16 and 68 is advisable when navigating on the Strait.
The abundant fishing wharves along the Strait are generally friendly and most accommodating to pleasure boaters in addition to being an excellent source of local information and attractions. A sharp lookout is advised during the summer lobster season as pot buoys are numerous and arisk of propeller fouling exists. During the local lobster season the fishers are only too happy to sell their catch (usually $5 to $6 per pound depending on market price) "over the side" to cruising boats. Most boaters around here don't mind paying a little more to the folks actually doing the work. A fresher seafood treat couldn't be had! If you're unsure of how to cook or a tad squeamish about cooking lobster onboard, lobster festivals in Shediac, N.B. and Pictou, N.S. in early July are always very popular and marina reservations are encouraged well in advance of arriving.
Snug anchorages are numerous, although wind and current conditions are factors that should be considered before setting the hook for the night. Having a tender greatly increases the possibilities of gunkholing while at anchor. An excellent online resource for cruisers is www.activecaptain.com (free to join and use) with reviews from cruisers who have been tied alongside at the marinas as well as on the hook at anchorages, boaters can make their choices with the unbiased information provided by cruisers who have "been there".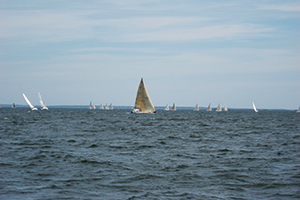 Festivals and events abound in the region, highlighted by the Festival of Lights in Charlottetown with Canada Day fireworks in Charlottetown Harbour on July 1, in addition to a series of concerts on the waterfront. Marina reservations are a must as many cruisers (and racers) take in these events. For those who like to mix it up, there are several races throughout the summer governed by the Northumberland Strait Yachting Association. Charlottetown Race Week is held in the middle of July providing racers with three days of competition.
One of the two possible concerns to skippers on the Strait is the Confederation Bridge (the longest bridge over ice-covered water in the world) connecting Cape Jourimain, NB and Borden-Carleton, PEI. The span is well charted and vessels with tall clearance requirements may wish to use the navigation span near the centre of the structure. The other is Northumberland Ferries between Wood Islands PEI and Caribou NS. The ferry captains are extremely courteous and will give pleasure boaters a wide berth unless constrained by draft when approaching their ports on either side. If any doubt arises as to your intentions, they will communicate with cruising vessels on VHF 16.
Steve, Patti and Grace the ship's cat have logged over 18,000 miles on the Northumberland Strait since 1999 aboard Ever After, an Aloha 27 out of Barrachois Harbour Yacht Club near Tatamagouche N.S.
Take a look at some of our other featured destinations!
Head to our articles section for more information on boating activities!