St. John River
St. John River, New Brunswick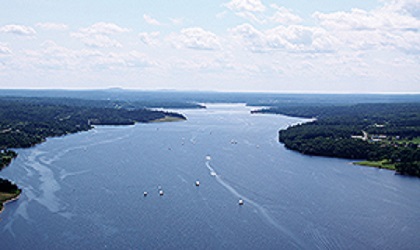 St. John River: A well-kept secret

By Cathy MacKelvey
On any weekday morning there are more eagles and ospreys than people. In a narrow channel called the Hole in the Wall that applies any day that's not in duck hunting season! The St. John River is a well-kept secret. Scorching hot in summer. Cooling fog from the Bay of Fundy stops at Evandale. Upriver tends to be hot and sunny with occasional rainy days. It's not unusual to see some impressive American eye candy. My favorite this year was a yard-maintained Hinkley 55 out of Boston. Recently, there has been commercial traffic on the river so the channels are well marked. There are old concrete paddleboat wharves all along the river that make terrific public access points for launching small boats. They are well marked on the charts. There are cable ferries at Quispamsis, Grand Bay, Bellisle, Evandale and Gagetown requiring some care in crossing their cable.
Meeting the river in a ladder formation are four large navigable bodies of water - Kennebecasis River, Bellisle Bay, Washedemoak Lake and Grand Lake - with open water and good breezes for an afternoon sail. For kayaking I prefer the main river with its seemingly endless number of creeks to explore.
You can walk on a sandy beach, Grimross or Ox Island, enjoy an afternoon sail, kayak in one of the many creeks while also having access to some of civilization's amenities. Have a meal in a pub, on the wharf in Evandale or Gagetown. Buy an ice cream cone at Ducey's up from Wickham Wharf, at a farmers' market, including Jemseg on Saturdays, Gagetown on Sundays. Visit an interesting village such as Gagetown or take a pleasant walk down a country road or paddle up a creek may lead to the vineyard at Motts Landing, German sausages at Elke's BBQ up from Colwells Wharf),the ruins of historic Mount House in Mount Creek.
And that's just in the summer. Come fall there are fewer people still on the river The nights are cool for sleeping well and the winds steady. And, of course, there are the fall colours.
Coming from Saint John direction, Purdy's and then Whepley's Coves are popular. From there, turning into the Bellisle, there is Kingston Creek also known as The Bedroom and Jenkins Cove. But keep an eye open for floatplanes.
The Hole in the Wall in Lower Musquash Island is one of my favorite anchorages and one of my favorite spots to kayak. As the creek opens into a large lake the only signs of civilization are a few farms in the distance. Late in the year when the grass is high and the water low, it can be difficult to find the creek to exit the lake. If you go be careful to note where the creek is as you enter.
Big Cove is a popular anchorage in Washedemoak Lake. Across the lake is Motts Landing Vineyard. They have a mooring and some very good wine.
Tuck yourself in between between Ox and Gilbert Island. This is a popular destination for boats coming from Oromocto or Fredericton for the weekend. The upriver ends of these islands have sandy beaches. Casey's restaurant on the opposite side of Gilbert Island is popular, particularly for breakfast. As you go up river from Ox and Gilbert the river narrows and the current is more apparent.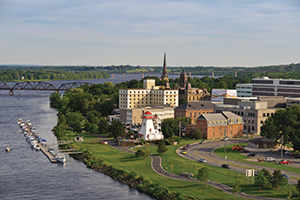 Many boaters from Fredericton keep their boats in Douglas Harbour on Grand Lake. Douglas Harbour has a gas station with an adjacent vegetable stand(walk to the main road from the wharf then right) The upper side of Flowers Cove is a popular anchorage while Goat Island has a panoramic view with good swimming. Nice long tacks on the lake with no current make for attractive sailing. When the wind in Grand Lake is light, the bar running out to the buoy is a fun place to swim. Boats nose up to the bar on the leeward side, dropping anchor on the point and people jump off the bow onto the beach to swim on the opposite side. Have a look in Google maps satellite view.
So what's so special about St. John River? I love its quirks. The reversing falls in Saint John. The freshet. Every spring the river floods, a lot. This means that nothing can be built near the water. Occasionally someone tries and Mother Nature sets them straight. I love how the current splits and goes around Lower Musquash Island both directions before entering the Washedemoak. I love how I can drift upriver with the current then back with the change in tide in my kayak. I love that it's a well-kept secret. You don't believe any of this, right?
Take a look at some of our other featured destinations!
Head to our articles section for more information on boating activities!