Boating Lifestyle
Boating Lifestyle
There is so much to love, and learn, about boating. That's why we created this library of articles, videos and blog posts to help you throughout your adventures.
Personal Flotation Devices (PFDs) or Lifejackets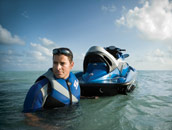 Personal flotation devices (PFDs) and lifejackets come in many shapes, colours and materials. Some are made rugged to last longer while others are made to maintain body heat in cold water. No matter which PFD you choose, get one that is right for you, your planned activities and the water conditions you anticipate. Spend a little time now to choose and become familiar with the particular features of your PFD. It could save your life later.
Always look for a label stating that the PFD has been approved by Transport Canada, the Canadian Coast Guard, Fisheries and Oceans Canada or any combination thereof before you purchase and make sure you understand the regulations and requirements of using PFDs. Also ensure you properly maintain whatever PFD or lifejacket you choose.
By law, pleasure craft must have enough Canadian-approved flotation devices of the appropriate size for everyone on board. You can choose between lifejackets and Personal Flotation Devices (PFDs). Remember, lifesaving cushions are not approved as personal flotation equipment on any vessel. Have a look at our webpage on safety for more detailed information on boating safely and more information about lifejackets.
When boating with children, you absolutely want to be sure that they are wearing a lifejacket that fits them properly and is specifically designed for their size. If you are boating with children, then be sure they are always within arms reach and are wearing a proper flotation device at all times. Before buying a flotation device for any child, make sure the device is Canadian-approved. Find an appropriately sized device and have them try it on. It should fit snugly, not ride up over your child's chin or ears. If there are more than 7.6cm (3") between your child's shoulders and the device it is too big and could do more harm than good. A child's flotation device should have a large collar for head support, waist ties or elastic gathers in the front and back, a safety strap that goes between the legs to prevent the device from slipping over your child's head, buckles on safety straps and reflective tape, and you should consider attaching a non-metallic pealess whistle to the device when your child is old enough to use one. Please note that currently there are no approved lifejackets for infants under 20 pounds (about 9 kg).
About 90 percent of people who drown in recreational boating accidents are not wearing a flotation device. A lifejacket or PFD is the best insurance you can have. Find one that suits your needs and wear it. Never underestimate the protection a flotation device can afford you. It is called lifesaving equipment for a reason !